MicroGenesis: Your preferred Partner
With an industry experience of over 20 years, we are known to amalgamate a perfect blend of experience, expertise and engagement models to drive enterprise digital technology offerings across multiple verticals.
Organizations have leveraged our deep domain expertise, passion for customer excellence and proven delivery experience to offer a wide range of solutions for diverse verticals like automotive, manufacturing, retail and healthcare.
Values that help us revitalise technology solutions at the speed of business
Excellence through leadership
An entrepreneur from the heart and a true patron of innovation and technology, Manoj Tharian founded MicroGenesis TechSoft, a technology service company in the year 2000. Thereafter began a journey of almost two decades with an aspiration to make MicroGenesis TechSoft a global name. Determination and hard work directed him to garner experience in several domain-based projects that proved useful in offering innovative and customized software-based solutions for unique problems.
His exposure in the field of technology and experience in industrial settings led him to leverage technological expertise in the form of enterprise software solutions to optimize business efficiency as well as cost-efficiency.
Being the founder member and senior leader, Manoj reflects the organizational value of MicroGenesis which is reliability in all his entrepreneurial endeavors. With excellent business acumen Manoj could successfully inculcate a stable ecosystem with infrastructural sustainability and agile solutions for the enterprise management system and for MicroGenesis to operate flawlessly.
Manoj is a man with wide spectra of knowledge and a vision to continuously learn and embrace new skills. He strongly believes in the fact that an organization grows along with its people hence vouches towards carving a growth path for all the employees of the organization with knowledge empowerment and continuous learning. This encourages employees to grow while being a part of MicroGenesis, bolstering employee satisfaction, and eventually sustenance.
Dhananjaya K joined MicroGenesis with almost 20 years of experience where System Engineering and Engineering Lifecycle Management is his niche. His skills and optimum knowledge in the field aided MicroGenesis to implement automation, customized consulting services, and enterprise solutions keeping the best practices in the forefront.
Dhananjaya's contribution towards supporting the technology consulting team is immense in offering exceptional consulting services in domains such as; the Medical Device, Automotive, Transportation, Aerospace, Defense, PSU in Engineering Lifecycle Management, DevOps, Systems Engineering, Software Development & QA services.
Sangram Rout joins us with more than two decades of experience working across multiple domains like Healthcare, Automotive, Retail, Supply Chain and Insurance. As a global delivery leader, he ensures seamless end-to-end delivery and client management.
An entrepreneur at heart, he co-founded a Healthcare Aggregator Company MTMC Medi-info Pvt. Ltd. He has been recognized for his leadership skills in areas of Technology, Organizational strategy, Process Implementation and operational excellence. With his plethora of knowledge he will be instrumental in developing innovative solutions to bring distinction to the brand.
Santy has 23 years of experience in business development, enterprise software solutions, and automation solution is his forte. His knowledge and exceptional skills in understanding the business aided MicroGenesis to effectively manage relationships with the clients.
His business acumen and spirit of continuing with the learning process is an inspiration to many. So, Santy also mentors and guides the marketing team with strategic initiatives based on his expert understanding of the marketing trends in brand awareness and marketing campaigns across multiple channels, media, and communication.
IBM Partner Ecosystem Summit Awards
Award | Best in class - AI Apps Partner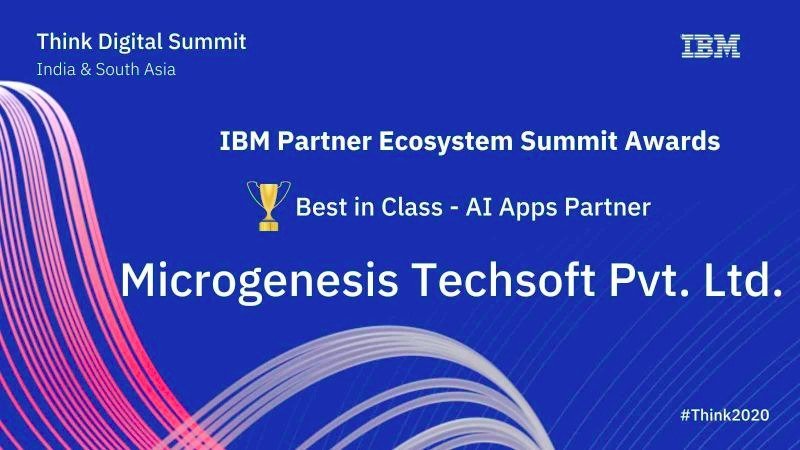 Certificate of Membership
Watson IoT Business Partner Council