Application Maintenance and Support
Our Support and Maintenance Approach
Onshore and Offshore delivery models to ensure maintenance and support, reduce costs, and assist in your IT needs
We offer holistic application management and support with flexible, scalable, and customized services that drive performance across the enterprise IT value chain.
Your value partner for growth and performance:
18 years of comprehensive application management experience
Focus on high returns to ensure support and maintenance savings
Leverage dedicated teams or communal support on specific performance parameters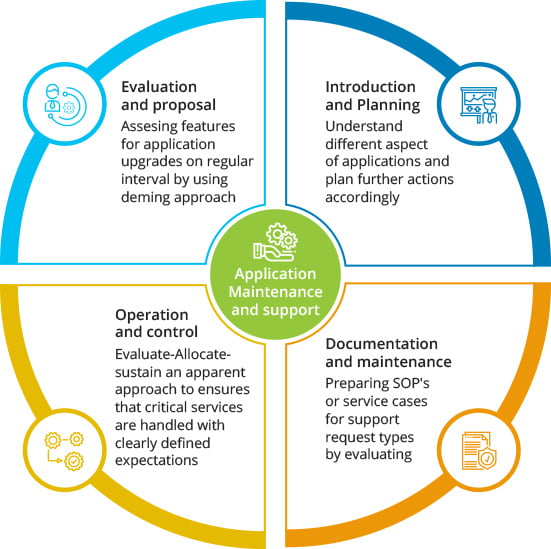 Rely on us to resolve all your challenges in application maintenance and support
We are uniquely positioned to manage applications built using cutting edge technologies, platforms, databases, and languages. Our expertise includes, MS technologies, Cloud, J2EE, Java, Oracle, SAP which can help you maintain a robust, simple and scalable infrastructure which helps in efficient process flows and smoother delivery.
Choose your support modalities
Choose your support modalities
We provide dedicated and communal support. You can choose a specialized team for the entire contract period and cover L1, L2, and L3 support. The communal support team assists multiple clients and ensures the SLA compliance. The scope of work is decided by the client and it can be revisited during the contract period for changes. We also manage the schedule, resourcing and management of all support teams.
Flexible to extract value
Flexible to extract value
Our support team manages diverse clients and adheres to the SLAs to ensure all performance parameters are met. Clients have the flexibility to revisit the SLA and revise them to meet market needs.
Performance optimization
Application maintenance lifecycle involves planning, assessment, documentation and evaluation to meet client needs.
Risk management
Every stage of AMS lifecycle is moderated through stringent risk management techniques, service methodology and expert consulting support.
Visible ROI
Analysis and evaluation of the customer's application portfolio at every stage ensures good return on investment
Ensure continuous efficiencies, Drive measurable outcomes, Enable lasting experiences
Today's fast paced business environments are driven by streamlined IT budgets and organizations are looking for innovative approaches to improve cycle times, improve operational efficiencies and the overall quality of customer experiences. We are fully equipped with the manpower and resources to design and deliver to your expectations, while enabling profitable outcomes.
Visible value through strategic AMS
Manage your complex, integrated infrastructure and systems for assured stability and performance quality at reduced costs
Operational Flexibility
Dedicated teams or issue based communal support based on operational requirements.
Optimized & Efficient
We ensure uninterrupted application workflows to facilitate higher returns, lower running costs, and optimal resource management.
Streamlined Resource Management
Streamlined Resource Management
Experience minimum operational expenses to supervise, manage, schedule and administer teams