Robust toolchains to facilitate DevOps practices
Automate software development and delivery process across the enterprise.
DevOps integrates an engineering culture with automation practices to enable continuous delivery of products and services.
Our Competencies
Achieve delivery efficiencies
Accelerate time to value
Accentuate customer satisfaction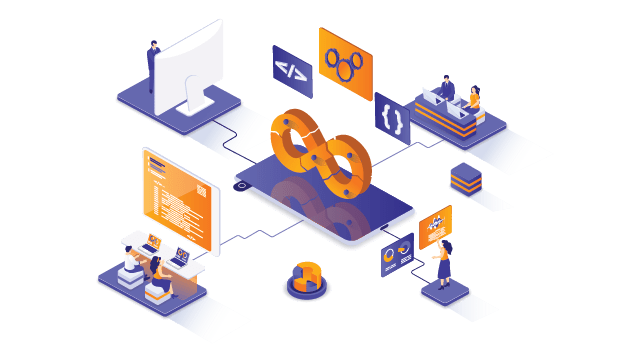 Fill the form to download DevOps toolchain brochure

Gap analysis to review challenges and pain points

DevOps culture readiness programs

Customized frameworks, assessments, methodologies, and automation blueprints

End to end guidance and on boarding for DevOps platform

Cost effective deployment models with high quality focus
Start your transformative DevOps journey with us
A robust DevOps implementation is necessary for agile and high productivity teams, continuous releases and faster go-to-market products.
DevOps Consultancy
Tailor made solutions to fit organizational requirements
DevOps on Cloud
On-demand cloud services built on AWS, Azure and GCP for high cost efficiency
Robust scalable solutions
End-to-end automation with centralized application configuration for large scale deployments
Continuous integration
Centralized repository to constantly update change requests
Continuous delivery
Tested iterative delivery for effective risk and defect management
Centralized control & monitoring
Unified monitoring, reporting and version management through automation of IT infrastructure